Voyage en Egypte Travel in Egypt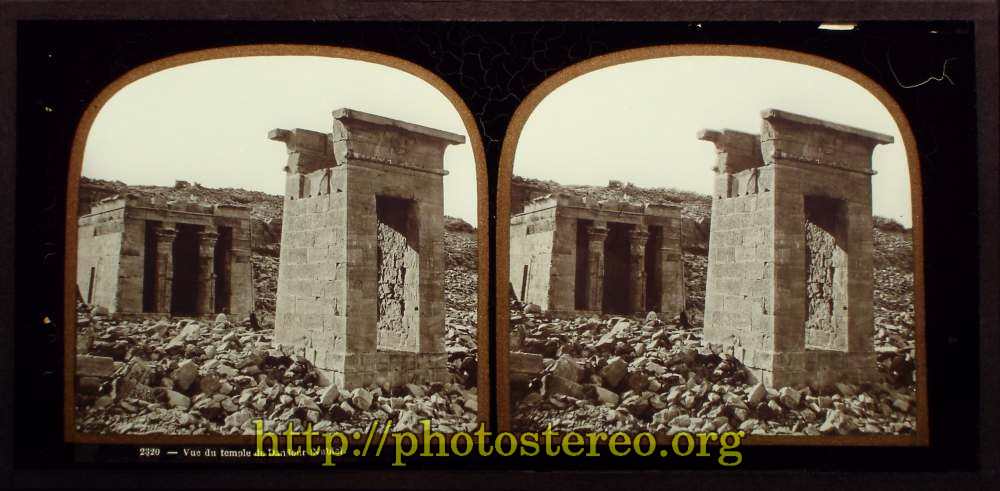 43_9, Egypte. Frith/Ferrier et Soulier 2320. Vue du Temple de Dandour (Nubie). ca 1859. Egypt. Temple of Dandour - Nubie -.
L'anglais photographe et explorateur Francis Frith a effectué trois voyages en Egypte en 1856, 1857, 1859. Les négatifs sont copiés et des doubles cédés à plusieurs éditeurs, dont Ferrier et Soulier qui les ajoutent à leur catalogue de vues sur verre. (cf. L'Egypte à la chambre noire. Francis Frith, photographe de l'Egypte retrouvée. Par Jean Vercoutter. ed. Gallimard 1992. ISBN 2-07-056661-7).
View : albumin on glass. The english explorer and photograph Francis Frith made three travels in Egypte, in 1856, 1857, 1859. He sold copies of the negatives to editors. Ferrier and Soulier are one of them.
https://photostereo.org
© Francis Dupin 2000-2023. Toute reproduction interdite sans l'autorisation écrite de l'auteur.
All rights reserved.
Photographies stéréoscopiques du 19 ème siècle. 1850-1871 Photographie stéréoscopique, photos stéréo Stéréoscopie, photographie en relief, vintage, photographie en 3D, 3D photography Early stereoscopic photographs, stereoviews, stereoview of 19 th century, tissue views, tissues photographs, diableries.
(Version : 06/07/2023 09:11)
[
À propos
]
[

]
[

]