Date (Europe/Paris) : 06/12/2023 05:43
Moteur de recherche de photos stéréo (1850-1871). Stereoviews searching engine.
Recherche libre [limitée au champ numéro photo] (Free search) : §coll_1_20
1 photo trouvée (photo found)
Photo: coll_1_20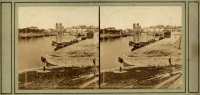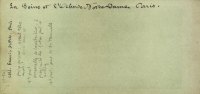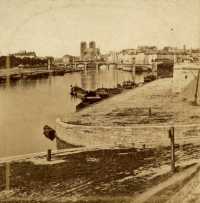 Voir séries (See series) : [ 4 ]
Paris - « La Seine et l'abside Notre-Dame ». Vue prise du Quai Henri IV (Voie Mazas). Tirage Villeneuve (?)

[ Indexation sur stereotheque.fr ]
Paris - The Seine and Notre-Dame church. Edited by Villeneuve (?)
Vue prise de la Voie Mazas, à l'époque place Mazas.

Au tout premier plan à droite, l'embouchure du Canal Saint Martin qui mène au bassin de l'Arsenal. Ensuite, sur chacune des rives on voit la pile de la passerelle Constantine effondrée en 1872 et remplacée en 1876 par le pont de Sully. Sur la pile Nord, on distingue les haubans.
Plus au fond, les 6 arches du pont de la Tournelle, détruit en 1918 et remplacé par un pont à arche unique.


Au dos manuscr à l'encre : «La Seine et l'Abside Notre-Dame Paris.»
Script exécuté en 0,004 secondes
https://photostereo.org
© Francis Dupin 2000-2023. Toute reproduction interdite sans l'autorisation écrite de l'auteur.
All rights reserved.
Photographies stéréoscopiques du 19 ème siècle. 1850-1871 Photographie stéréoscopique, photos stéréo Stéréoscopie, photographie en relief, vintage, photographie en 3D, 3D photography Early stereoscopic photographs, stereoviews, stereoview of 19 th century, tissue views, tissues photographs, diableries.
(Version : 06/12/2023 05:43)
[
À propos
]
[

]
[

]