Date (Europe/Paris) : 08/12/2023 03:30
Moteur de recherche de photos stéréo (1850-1871). Stereoviews searching engine.
Recherche libre [limitée au champ numéro photo] (Free search) : §jlc_2_20
1 photo trouvée (photo found)
Photo: jlc_2_20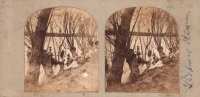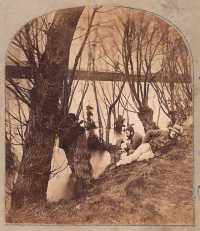 Voir séries (See series) : [ 90 ]
Saint-Ouen. Pêcheurs.
Probablement alentours du Moulin de la Cage.
Saint-Ouen. Fishermen.
Area of Paris. Probably Saint-Ouen, near the watermill of La Cage.
Sur le côté, manuscrit à l'encre : «Pêcheurs. St Ouen». Cette vue a été déposée dans un encadrement rectangulaire 2 vues sur le même papier par Verneuil ,timbre humide au dos de Bertrand. Vue N° 312 cote BNF : 0b1164 boîte 3, DL 1868-2606

Vue déposée par Verneuil sur cartonnage simple sans bordure, successeur de Bertrand. Microfilm R130668 (bobine 777) (cote EK5). Vue 211 et 212. DL2606, série de 15 vues homogène par les personnages ou le site, peut-être toutes prises aux alentours du moulin de la Cage.
Le moulin de la Cage (cesse son activité en 1856 et est incendié en 1870). Il était situé entre les actuels rive du quai des Grésillons et , sur l'île saint Denis, le quai de l'aéroplane, soit au niveau du pont du boulevard Marcel Paul.
Il apparait sur le plan de Delagrive des environs
de Paris (1740) : https://gallica.bnf.fr/ark:/12148/btv1b531792763/f15.item.zoom
Provenance : collection José Luis Calvelo (2008)
Script exécuté en 0,006 secondes
https://photostereo.org
© Francis Dupin 2000-2023. Toute reproduction interdite sans l'autorisation écrite de l'auteur.
All rights reserved.
Photographies stéréoscopiques du 19 ème siècle. 1850-1871 Photographie stéréoscopique, photos stéréo Stéréoscopie, photographie en relief, vintage, photographie en 3D, 3D photography Early stereoscopic photographs, stereoviews, stereoview of 19 th century, tissue views, tissues photographs, diableries.
(Version : 08/12/2023 03:30)
[
À propos
]
[

]
[

]