Date (Europe/Paris) : 06/12/2023 06:14
Moteur de recherche de photos stéréo (1850-1871). Stereoviews searching engine.
Recherche libre [limitée au champ numéro photo] (Free search) : §jlc_1_45
1 photo trouvée (photo found)
Photo: jlc_1_45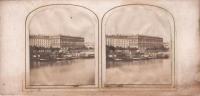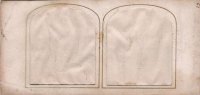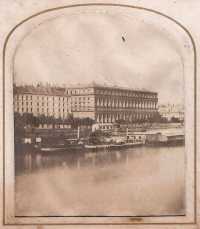 Voir séries (See series) : [ 3_type1 ]
Paris - Le Palais d'Orsay. Prise de vue : ca 1853
Paris - Palace of Orsay. (circa
1853)
Au dos, à l'encre : «61» et au
crayon : «Palais d'Orsay / Paris»
Le Palais d'Orsay, qui abritait la Cour des comptes et le Conseil d'Etat est incendié en 1871 lors de la Commune. Sur son emplacement est édifiée la gare d'Orsay en 1898.
Papier salé
La vue est montée entre deux cartons évidés, ce qui permet une observation par transparence. Photo de [ type 1 ]

Vue attribuée à Ferrier.
"Salted paper.
""Semi-tissue"" view"
Provenance : collection José Luis Calvelo (France). 2005
Script exécuté en 0,003 secondes
https://photostereo.org
© Francis Dupin 2000-2023. Toute reproduction interdite sans l'autorisation écrite de l'auteur.
All rights reserved.
Photographies stéréoscopiques du 19 ème siècle. 1850-1871 Photographie stéréoscopique, photos stéréo Stéréoscopie, photographie en relief, vintage, photographie en 3D, 3D photography Early stereoscopic photographs, stereoviews, stereoview of 19 th century, tissue views, tissues photographs, diableries.
(Version : 06/12/2023 06:14)
[
À propos
]
[

]
[

]