Date (Europe/Paris) : 30/09/2020 10:50
Moteur de recherche de photos stéréo (1850-1871). Stereoviews searching engine.
Recherche libre [limitée au champ numéro photo] (Free search) : §coll_41_34
1 photo trouvée (photo found)
Photo: coll_41_34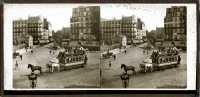 coll_41_34_56939.jpg - 73 K (1000 X 487)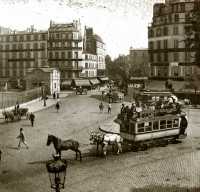 coll_41_34_75493.jpg - 129 K (1000 X 962)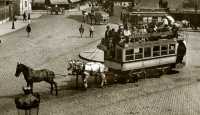 coll_41_34_84939.jpg - 88 K (1000 X 578)
Paris - N°127. Gare de Strasbourg (maintenant gare de l'Est). Boulevard de Strasbourg, instantanée n[°]. Tramway hippomobile.
Paris. Strasbourg street. and Strasbourg Station (now East station. Tramway
Tramway hippomobile, ligne TH La Chapelle - Square Monge.

Les premiers tramway, tractés par des chevaux, circulent à Paris à partir de 1873, exploités dans Paris intra-muros par la Compagnie Générale des Omnibus. Il faut donc dater cette vue vers 1880.

Montage en 2 verres, chacun de 0.9 mm.
Script exécuté en 0,005 secondes
https://photostereo.org
© Francis Dupin 2000-2020. Toute reproduction interdite sans l'autorisation écrite de l'auteur.
All rights reserved.
Photographies stéréoscopiques du 19 ème siècle. 1850-1871 Photographie stéréoscopique, photos stéréo Stéréoscopie, photographie en relief, vintage, photographie en 3D, 3D photography Early stereoscopic photographs, stereoviews, stereoview of 19 th century, tissue views, tissues photographs, diableries.
(Version : 30/09/2020 10:50)
[

]
[

]
[

]