Date (Europe/Paris) : 14/07/2020 09:29
Moteur de recherche de photos stéréo (1850-1871). Stereoviews searching engine.
Recherche libre [limitée au champ numéro photo] (Free search) : §coll_41_22
1 photo trouvée (photo found)
Photo: coll_41_22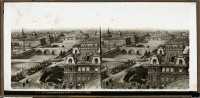 coll_41_22_34998.jpg - 68 K (1000 X 492)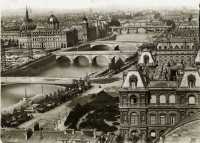 coll_41_22_43533.jpg - 109 K (1000 X 716)
Voir séries (See series) : [ 39 ]
«L.F 30 Vue panoramique de Paris. (Les huit ponts)» Paris - Ponts sur la Seine. Vue prise de l'église Saint Gervais. Premier plan : Pont d'Arcole, puis pont Notre Dame. Devant le Palais de Justice, le tribunal de Commerce. Devant encore, travaux de construction de l'Hôtel Dieu (sa construction débute en 1864). Photographes : Attribué à Lachenal et Favre.
Paris - Bridges on the Seine. From Saint Gervais church. Foreground : Grèves footbridge.
Prise de vue : ca 1864, à cause des travaux de construction de l'hôtel Dieu.
Script exécuté en 0,004 secondes
https://photostereo.org
© Francis Dupin 2000-2020. Toute reproduction interdite sans l'autorisation écrite de l'auteur.
All rights reserved.
Photographies stéréoscopiques du 19 ème siècle. 1850-1871 Photographie stéréoscopique, photos stéréo Stéréoscopie, photographie en relief, vintage, photographie en 3D, 3D photography Early stereoscopic photographs, stereoviews, stereoview of 19 th century, tissue views, tissues photographs, diableries.
(Version : 14/07/2020 09:29)
[

]
[

]
[

]