Date (Europe/Paris) : 08/12/2023 04:33
Moteur de recherche de photos stéréo (1850-1871). Stereoviews searching engine.
Recherche libre [limitée au champ numéro photo] (Free search) : §coll_2_170
1 photo trouvée (photo found)
Photo: coll_2_170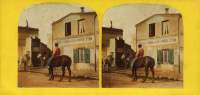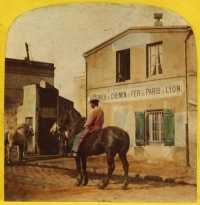 Voir séries (See series) : [ 48 ]
Paris ? - Ecuries du Chemin de fer de Paris à Lyon
Paris - Stables for the Paris to Lyon railroad.
"Au dos, timbre à l'encre ""Document de la Collection / C. CHAUTARD / 4, rue d'Arras, Paris / Mention Obligatoire"" et manuscrit à l'encre, probablement les lieu et date d'achat : ""Vosges 22-3-76""

Vue déposée par Verneuil sur cartonnage simple, successeur de Bertrand. Microfilm R130668 (bobine 777) (cote EK5). Vue 299 et 300. DL2649 probablement année 1868. Série d'une cinquantaine de vues de chevaux, attelages et vues du Quai aux vins"
Script exécuté en 0,005 secondes
https://photostereo.org
© Francis Dupin 2000-2023. Toute reproduction interdite sans l'autorisation écrite de l'auteur.
All rights reserved.
Photographies stéréoscopiques du 19 ème siècle. 1850-1871 Photographie stéréoscopique, photos stéréo Stéréoscopie, photographie en relief, vintage, photographie en 3D, 3D photography Early stereoscopic photographs, stereoviews, stereoview of 19 th century, tissue views, tissues photographs, diableries.
(Version : 08/12/2023 04:33)
[
À propos
]
[

]
[

]