Date (Europe/Paris) : 06/06/2023 01:49
Moteur de recherche de photos stéréo (1850-1871). Stereoviews searching engine.
Recherche libre [limitée au champ numéro photo] (Free search) : §coll_2_165
1 photo trouvée (photo found)
Photo: coll_2_165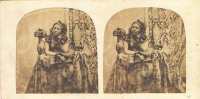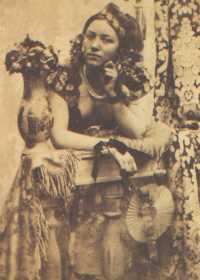 Voir séries (See series) : [ 5 ]
«Les odalisques au sérail N°7, l'attente»
Femme au type berbère accoudée. Tirage Teruel
The odalisques at the Seraglio. The wait. Edited by Teruel.
Timbre sec «DX» (Duriaux), comme revendeur certainement.

Vue déposée par Teruel, BNF cote Tb986 boîte 4. DL 4599 date illisible. au dos, étiquette blanche «Les Odalisques au Sérail - N°7 - TERUEL, photographe, / Au Pavillon du Parc, Nevers (Nièvre). - / (Déposé)» Manuscrit au recto : «L'attente». La série comporte 12 vues dont 10 déposées.
Script exécuté en 0,003 secondes
https://photostereo.org
© Francis Dupin 2000-2023. Toute reproduction interdite sans l'autorisation écrite de l'auteur.
All rights reserved.
Photographies stéréoscopiques du 19 ème siècle. 1850-1871 Photographie stéréoscopique, photos stéréo Stéréoscopie, photographie en relief, vintage, photographie en 3D, 3D photography Early stereoscopic photographs, stereoviews, stereoview of 19 th century, tissue views, tissues photographs, diableries.
(Version : 06/06/2023 01:49)
[
À propos
]
[

]
[

]