Date (Europe/Paris) : 06/06/2023 02:17
Moteur de recherche de photos stéréo (1850-1871). Stereoviews searching engine.
Recherche libre [limitée au champ numéro photo] (Free search) : §coll_2_153
1 photo trouvée (photo found)
Photo: coll_2_153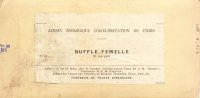 Voir séries (See series) : [ 56 ]
Paris - Jardin zoologique d'Acclimatation de Paris. N°28. Buffle femelle et son petit.
Paris. zoological garden. The female fuffalo and its baby.
Au dos, étiquette blanche 113x63mm « Jardin zoologique d'Acclimatation de Paris / --- / Buffle femelle / et son petit / N°28.
---
A Paris, 57, rue de Seind, chez H. Tourner (ancienne maison Furne fils et H. Tournier),
Fournisseur de S. M. l'Empereur,
Editeur des Voyages aux Pyrénées, en Bretagne, Normandie, Suisse, Italie, etc.
Portraits de toutes dimensions»
Script exécuté en 0,004 secondes
https://photostereo.org
© Francis Dupin 2000-2023. Toute reproduction interdite sans l'autorisation écrite de l'auteur.
All rights reserved.
Photographies stéréoscopiques du 19 ème siècle. 1850-1871 Photographie stéréoscopique, photos stéréo Stéréoscopie, photographie en relief, vintage, photographie en 3D, 3D photography Early stereoscopic photographs, stereoviews, stereoview of 19 th century, tissue views, tissues photographs, diableries.
(Version : 06/06/2023 02:17)
[
À propos
]
[

]
[

]