Date (Europe/Paris) : 06/06/2023 01:51
Moteur de recherche de photos stéréo (1850-1871). Stereoviews searching engine.
Recherche libre [limitée au champ numéro photo] (Free search) : §coll_2_101
1 photo trouvée (photo found)
Photo: coll_2_101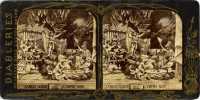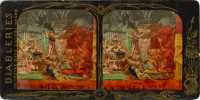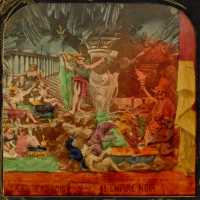 Voir séries (See series) : [ 17 ]
Diableries - Ou voyage dans l'autre monde. La biche au bois. L'empire noir. La fée
furibonde. Par Block
Devilry - Satyrical view of the play « la biche aux bois. The dark empire. The furious fairy.
Signature «HA» sur la vasque, marque du scultpeur Auguste Hennetier selon Denis Pellerin in «La Commune photographiée.P.50, 51. Musée d'Orsay. 11 mars - 11 juin 2000. Ed. rmn ISBN 2-7118-4007-7». La série de saynètes modelées «La biche au bois» a été déposée en 1866 par Jules Marinier (actualités théâtrales), ce qui pourait dater le négatif de cette vue vers 1866. Ce tirage, puisqu'édité par Block, qui a racheté le fond Marinier serait donc largement postérieur.
Script exécuté en 0,003 secondes
https://photostereo.org
© Francis Dupin 2000-2023. Toute reproduction interdite sans l'autorisation écrite de l'auteur.
All rights reserved.
Photographies stéréoscopiques du 19 ème siècle. 1850-1871 Photographie stéréoscopique, photos stéréo Stéréoscopie, photographie en relief, vintage, photographie en 3D, 3D photography Early stereoscopic photographs, stereoviews, stereoview of 19 th century, tissue views, tissues photographs, diableries.
(Version : 06/06/2023 01:51)
[
À propos
]
[

]
[

]