Date (Europe/Paris) : 08/12/2023 01:46
Moteur de recherche de photos stéréo (1850-1871). Stereoviews searching engine.
Recherche libre [limitée au champ numéro photo] (Free search) : §coll_1_9
1 photo trouvée (photo found)
Photo: coll_1_9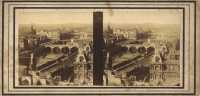 Voir séries (See series) : [ 1 ]
Paris - Ponts sur la Seine. Palais de justice.
Tirage Villeneuve ?

[ Indexation sur stereotheque.fr ]
Paris - Bridges on the Seine. Law court.
Edited by Villeneuve ?
Vue prise de l'église Saint Gervais.
Premier plan : Passerelle de Grèves, puis Pompe Notre Dame adossée au pont Notre Dame reconstruit.
Au fond, Pont Neuf. A gauche, Quai aux fleurs, palais de Justice, église de la Sainte Chapelle. Tirage Villeneuve ?


Prise de vue : entre Avril 1854 et Octobre 1854. La passerelle de Grèves est démolie suite à la décision ministérielle du 31 Août 1854. (in Nomenclature des voies publiques et privées. ed 1972. Merci à M. John Cameron).
En cours de démolition en Oct 1854 (cf Le Siècle 7 Oct 1854), le pont Notre Dame est presque entièrement reconstruit
fin Janvier 1854 (Le Siècle 6606 du 28 Janvier 1854).

Or, la vue montre le nouveau pont terminé. Le marché aux fleurs semble avoir repris son activité. ce qui place la prise de vue après
début Mars 1854, et probalement après début Avril 1854 (Le Siècle 6643 du 7 Mars 1854).

Voir aussi les vues
[ coll_41_13 coll_41_21 coll_41_27 jlc_1_6 ]
Script exécuté en 0,003 secondes
https://photostereo.org
© Francis Dupin 2000-2023. Toute reproduction interdite sans l'autorisation écrite de l'auteur.
All rights reserved.
Photographies stéréoscopiques du 19 ème siècle. 1850-1871 Photographie stéréoscopique, photos stéréo Stéréoscopie, photographie en relief, vintage, photographie en 3D, 3D photography Early stereoscopic photographs, stereoviews, stereoview of 19 th century, tissue views, tissues photographs, diableries.
(Version : 08/12/2023 01:46)
[
À propos
]
[

]
[

]