Date (Europe/Paris) : 08/12/2023 02:49
Moteur de recherche de photos stéréo (1850-1871). Stereoviews searching engine.
Recherche libre [limitée au champ numéro photo] (Free search) : §coll_1_352
1 photo trouvée (photo found)
Photo: coll_1_352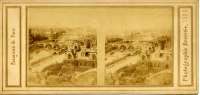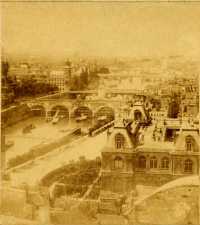 Voir séries (See series) : [ 69 ]
Paris - « Panorama de Paris ». Vue prise de l'église Saint Gervais. Ponts, Palais de Justice.
[ Indexation sur stereotheque.fr ]
Paris - Bridges on the Seine. From Saint Gervais church. Grèves footbridge, Law court.
Premier plan : Passerelle de Grèves, puis Pompe Notre Dame adossée au pont Notre Dame en démolition. Au fond, Pont Neuf. A gauche, Quai aux fleurs, palais de Justice, église de la Sainte Chapelle.


Les travaux sur le pont ND ressembleraient à la description du Siècle du 15 Avril 1853 « Sous chacune des arches du pont Notre-Dame on [vient] d'amarrer des bateaux pontés pour faciliter l'établissement d'un pilotis destiné à recevoir l'échafaudage qui [devrait] servir à la démolition du pont et à sa reconstruction immédiate. Quoique bien solide encore, ce pont est abattu pour être abaissé de deux mètres cinquante centimètres, c'est à dire de toute l'épaisseur de son gros oeuvre et se [tr]ouver ainsi de niveau avec les deux rues sur lesquelles il [dé]bouche. On doit, par la même
occasion, supprimer la ma[ch]ine hydraulique bâtie sur son côté occidental ».
Le Siècle 4 Juin 1853 : « Les travaux du pont Notre-Dame [sont] au contraire poussés avec une grand
activité. Les ou[vrie]rs chargés de la démolition du tablier sont déjà
parve[n]us à l'extra-dos des voûtes. D'immenses chantiers ont été [...]osés
pour la taille des pierres et la disposition des ma[téri]aux de construction
sur le bord de la Seine, ainsi que [su]r les quais aux Fleurs et Napoléon. La
circulation est in[terdi]te sir ce quai depuis la rue Saint-Landry jusqu'à la
[...] du pont Notre-Dame. » A mon avis, La vue date d'avant Juin 1853. (Il faudrait aussi voir la flêche de la Sainte Chapelle, qui a été reconstruite à
partir de mi Février 1853. Pas de flèche ni d'échafaudage: la vue est d'avant Février 1853.
Travaux sur le toit de l'église : la vue est d'après Février 1853). Donc, suivant les hypothèses formulées plus haut, je mise sur une prise de vue en avril
1853 en pensant qu'on voit justement les bateaux pontés dont parle Le Siècle.

Attribué à Duboscq-Soleil à cause de la présentation
identique aux daguerréotypes (cf Paris en 3D, Musée Carnavalet 2000, p.46)
Script exécuté en 0,003 secondes
https://photostereo.org
© Francis Dupin 2000-2023. Toute reproduction interdite sans l'autorisation écrite de l'auteur.
All rights reserved.
Photographies stéréoscopiques du 19 ème siècle. 1850-1871 Photographie stéréoscopique, photos stéréo Stéréoscopie, photographie en relief, vintage, photographie en 3D, 3D photography Early stereoscopic photographs, stereoviews, stereoview of 19 th century, tissue views, tissues photographs, diableries.
(Version : 08/12/2023 02:49)
[
À propos
]
[

]
[

]