Date (Europe/Paris) : 08/12/2023 03:17
Moteur de recherche de photos stéréo (1850-1871). Stereoviews searching engine.
Recherche libre [limitée au champ numéro photo] (Free search) : §coll_1_323
1 photo trouvée (photo found)
Photo: coll_1_323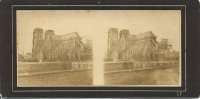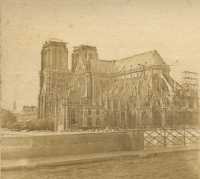 Voir séries (See series) : [ 9 ]
Paris. Façade sud et abside de l'église Notre Dame. Vers 1855. Initiales L.F Tirage Leautté Frères.
[ Indexation sur stereotheque.fr ]
Paris. South façade and apse of Notre Dame church. Edited by Leautte brothers.
Au dos au crayon «11 / L'Eglise Notre Dame (côté Sud] à Paris» A l'encre noire, recouvrant une écriture fine au crayon : «From the [] bridge» Manuscrit à l'encre noire
«[Clust] L.Mitchell / from C-A. Hale [ou Hall]»
initiales «C.L.M.» Datation de la prise de vue : vers 1854. La vue est postérieure à juillet 1853, car les barraquements à l'est de ls sacristie (visibles sur Cheronnet, Paris tel qu'il fut p.52) ont été rasés. Or, ils sont démolis au début de 1853. (cf journal Le Siècle N°6415 du 18 juillet 1853 p.3 : «Les dernières barraques établies sur le terrain de l'ancient archevêché, et dans lesquelles demeurèrent casernés pendant près de cinq ans divers détachemens de l'armée de Paris, ont disparu depuis plus de trois mois(...)»)
Script exécuté en 0,005 secondes
https://photostereo.org
© Francis Dupin 2000-2023. Toute reproduction interdite sans l'autorisation écrite de l'auteur.
All rights reserved.
Photographies stéréoscopiques du 19 ème siècle. 1850-1871 Photographie stéréoscopique, photos stéréo Stéréoscopie, photographie en relief, vintage, photographie en 3D, 3D photography Early stereoscopic photographs, stereoviews, stereoview of 19 th century, tissue views, tissues photographs, diableries.
(Version : 08/12/2023 03:17)
[
À propos
]
[

]
[

]