Date (Europe/Paris) : 06/12/2023 06:16
Moteur de recherche de photos stéréo (1850-1871). Stereoviews searching engine.
Recherche libre [limitée au champ numéro photo] (Free search) : §coll_1_315
1 photo trouvée (photo found)
Photo: coll_1_315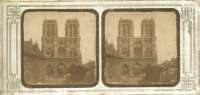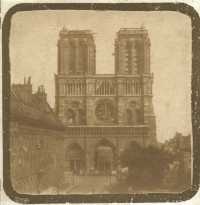 Voir séries (See series) : [ 86 ]
Paris - Façade de Notre-Dame. Vers 1851-1852
[ Indexation sur stereotheque.fr ]
Paris - The church Notre-Dame.
Papier albuminé, peut-être obtenu avec un négatif papier. Le montage de la vue est très particulier : Le papier photographique est pris en sandwich entre le carton du dessous et le papier imprimé du dessus, qui joue ainsi le rôle de passe-partout. Sur le cartonnage à droite : «déposé»
Vue très semblable à celle de Charles Nègre Cf Sothby's, vente Jammes. Paris 22 Mars 2002. Catalogue Ch. Nègre p.96
N°421 et catalogue Vente Viollet Le Duc Drouot 19 mars 2002 expert Pagneux lot N°4. Différence : statues probablement en bois dans les niches des contreforts au niveau des portails sont en place sur la vue de Nègre. Datation : avant janvier 1852 si l'on en croit la gravue de L'Illustration du 3 janvier 1852. On y voit le trumeau du portail central entièrement refait. Après, on sait de façon assez sûre qu'il est refait fin janvier 1853 (cf vues de Marville. Mariage de l'Empereur. Vente viollet Le Duc. Lot N°11).
Une autre vue représente l'intérieur du palais des expositions, lors de l'exposition universelle de 1855 (collection Dominique Devidts).

Vue attribuée à Duboscq-Soleil.
Script exécuté en 0,004 secondes
https://photostereo.org
© Francis Dupin 2000-2023. Toute reproduction interdite sans l'autorisation écrite de l'auteur.
All rights reserved.
Photographies stéréoscopiques du 19 ème siècle. 1850-1871 Photographie stéréoscopique, photos stéréo Stéréoscopie, photographie en relief, vintage, photographie en 3D, 3D photography Early stereoscopic photographs, stereoviews, stereoview of 19 th century, tissue views, tissues photographs, diableries.
(Version : 06/12/2023 06:16)
[
À propos
]
[

]
[

]