Date (Europe/Paris) : 25/06/2022 16:18
Moteur de recherche de photos stéréo (1850-1871). Stereoviews searching engine.
Recherche libre [limitée au champ numéro photo] (Free search) : §coll_1_300
1 photo trouvée (photo found)
Photo: coll_1_300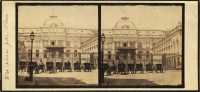 Voir séries (See series) : [ 66 ]
Paris - «20 - Palais de justice de Paris».
[ Indexation sur stereotheque.fr ]
Paris - the Law Courts.
Au dos, manuscr au crayon : «Vues de Paris / Le Palais de Justice / N° 12». En bas à droite de la vue de droite, numéro tronqué.
Papier salé verni. Vue quasi identique (seuls les fiacres ont bougé, les ombres et la position de l'appareil sont inchangés) déposée par D'Olivier [ Série 76 ], BNF cote Vx144 boîte 15 DL 9899 ? Vue N°33. Cependant, la vue est strictement identique à celle déposée par Koeniger et Foucher. DL 1857-5942 (?). Vue numérotée 73. Chercher s'il y a des vues communes à Koeniger et Foucher et D'olivier.
Salted paper.
Script exécuté en 0,005 secondes
https://photostereo.org
© Francis Dupin 2000-2022. Toute reproduction interdite sans l'autorisation écrite de l'auteur.
All rights reserved.
Photographies stéréoscopiques du 19 ème siècle. 1850-1871 Photographie stéréoscopique, photos stéréo Stéréoscopie, photographie en relief, vintage, photographie en 3D, 3D photography Early stereoscopic photographs, stereoviews, stereoview of 19 th century, tissue views, tissues photographs, diableries.
(Version : 25/06/2022 16:18)
[
À propos
]
[

]
[

]