Date (Europe/Paris) : 08/12/2023 01:30
Moteur de recherche de photos stéréo (1850-1871). Stereoviews searching engine.
Recherche libre [limitée au champ numéro photo] (Free search) : §coll_1_144
1 photo trouvée (photo found)
Photo: coll_1_144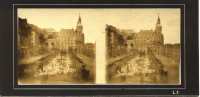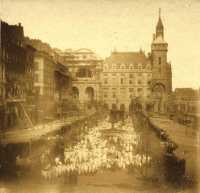 Voir séries (See series) : [ 9 ]
Paris - Le Marché aux fleurs. Fin 1854. Au fond, le Palais de Justice. Signature L.F. Tirage Leautté Frères.

[ Indexation sur stereotheque.fr ]
Paris - flowers market. Background : The Law Courts.
Edited by Leautte brothers
Au dos, manuscr au crayon : «Le Marché aux fleurs à Paris»Les travaux sur la façade Est du Palais de justice sont un peu moins avancés que sur la vue coll_1_9, ce qui situe la prise de vue avant Oct. 1854. Les arbres plantés le long du marché aux
fleurs sont jeunes et peu feuillus, contrairement à ceux de la vue
[ jlc_1_6 ] (Avril 1853 probablement). Or, le marché aux fleurs a été déplacé pendant les travaux de nivellement des abords du pont Notre Dame et les arbres changés ; Début Mars 1854, le sol du marché, qui a été abaissé, est presque entièrement nivelé. Courant Avril, le marché doit rouvrir (cf Le Siècle 6643 du 7 Mars 1854 p. 2 et 3). Puique sur cette vue, le marché est en activité, on peut penser que la vue est postérieure à Mars 1853. On propose donc comme période de prise de vue : entre Avril et Octobre 1854. [ coll_41_27 ]. Vue déposée par Leautté. BNF cote Vx144 boîte 13. DL 1858-72. La vue est déposée sur carton beige. Au dos à l'encre : «N°8» et au crayon dans la longueur : «Le quai aux fleurs»
Script exécuté en 0,003 secondes
https://photostereo.org
© Francis Dupin 2000-2023. Toute reproduction interdite sans l'autorisation écrite de l'auteur.
All rights reserved.
Photographies stéréoscopiques du 19 ème siècle. 1850-1871 Photographie stéréoscopique, photos stéréo Stéréoscopie, photographie en relief, vintage, photographie en 3D, 3D photography Early stereoscopic photographs, stereoviews, stereoview of 19 th century, tissue views, tissues photographs, diableries.
(Version : 08/12/2023 01:30)
[
À propos
]
[

]
[

]