Date (Europe/Paris) : 06/12/2023 05:02
Moteur de recherche de photos stéréo (1850-1871). Stereoviews searching engine.
Recherche libre [limitée au champ numéro photo] (Free search) : §coll_1_130
1 photo trouvée (photo found)
Photo: coll_1_130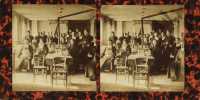 Voir séries (See series) : [ 20 ]
Paris - Siège de Paris. Ambulance de Passy, installée dans le Pensionnat de Passy, Hôtel de Valentinois.
[ Indexation sur stereotheque.fr ]
Paris - Besieged of Paris (1871). Inside the manor of Valentinois, at Passy, boarding school administered by religious, transformed into a temporary hospital.
Provient du même lot que les vues 1-131 et 1-132. Les tentures prouvent que les
trois vues sont du même bâtiment.

Les Frères des Écoles chrétiennes fondent en 1835 un petit noviciat rue du Faubourg Saint Martin qui, pour s'agrandir, déménage le 9 avril 1839 dans l'hôtel Valentinois de Passy, 72 rue Raynouard. Sur cette vue est rassemblé certainement l'ensemble du personnel médical. A droite debout, un infirmier de la Croix Rouge.

Bibliographie :
- Pensionnat de Passy. 1839-1939. Ed Casterman 1939
- Les Frères des Écoles chrétiennes pendant la guerre de 1870-1871 par J.d'Arsac. 2e ed. F.Curot Paris 1872
- Fonds du Pensionnat de Passy (1839-1962) par Marie-Agnès DUBOS. Archives Lasalliennes de Lyon. 2006
(Remerciements aux Archives Lasalliennes et à Catherine Carponsin-Martin)
Script exécuté en 0,006 secondes
https://photostereo.org
© Francis Dupin 2000-2023. Toute reproduction interdite sans l'autorisation écrite de l'auteur.
All rights reserved.
Photographies stéréoscopiques du 19 ème siècle. 1850-1871 Photographie stéréoscopique, photos stéréo Stéréoscopie, photographie en relief, vintage, photographie en 3D, 3D photography Early stereoscopic photographs, stereoviews, stereoview of 19 th century, tissue views, tissues photographs, diableries.
(Version : 06/12/2023 05:02)
[
À propos
]
[

]
[

]