Date (Europe/Paris) : 01/10/2023 00:44
Moteur de recherche de photos stéréo (1850-1871). Stereoviews searching engine.
Recherche libre [limitée au champ numéro photo] (Free search) : §coll_3_163
1 photo trouvée (photo found)
Photo: coll_3_163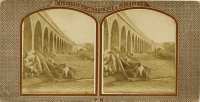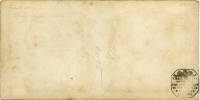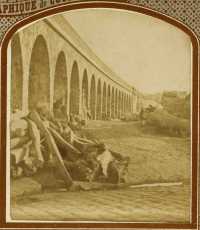 Voir séries (See series) : [ 64 ]
Région parisienne. Viaduc à identifier.
Imprimeur : Auguste Léon Marion
Area of Paris. Viaduct to identify
Imprimerie photographique de Courbevoie. Initiales P.M.

Au dos, légende au crayon qui pourrait être : «[... / Paris and Rouen [...]»

Timbre à l'encre noire 23x23mm «W.E de F NEW[T]ON / OPTIC[IAN] / GLOB[...] / TO HER MAJESTY / 5 FLEET ST / LONDON.»

Imprimerie Auguste Léon MARION, 78 avenue de l'Empereur à Courbeboie. Elle débute son activité le 26/10/1868.
Voir Ecole nationale des Chartes
Dictionnaire des imprimeurs-lithographes du XIXe siècle
http://elec.enc.sorbonne.fr/imprimeurs/node/23232
Notice : «Né le 25 novembre 1830 à Paris. Son père était papetier. Il est marié sans enfant.
Informations professionnelles:

Il possède déjà une grande papeterie vendant enveloppes, papier à lettres et produits pour la photo. Il est installé Cité Bergère où
il paie un
loyer de 11 000 f. Il a une succursale à Londres. Il demande en 1865 à avoir une presse à timbrer humide (système Lecoq) pour faire des en-têtes de lettres ou des adresses et obtient une autorisation révocable.
Bibliographie Sources:

Archives nationales F18 1835»
Script exécuté en 0,004 secondes
https://photostereo.org
© Francis Dupin 2000-2023. Toute reproduction interdite sans l'autorisation écrite de l'auteur.
All rights reserved.
Photographies stéréoscopiques du 19 ème siècle. 1850-1871 Photographie stéréoscopique, photos stéréo Stéréoscopie, photographie en relief, vintage, photographie en 3D, 3D photography Early stereoscopic photographs, stereoviews, stereoview of 19 th century, tissue views, tissues photographs, diableries.
(Version : 01/10/2023 00:44)
[
À propos
]
[

]
[

]