Date (Europe/Paris) : 17/04/2021 07:15
Moteur de recherche de photos stéréo (1850-1871). Stereoviews searching engine.
Recherche libre [limitée au champ numéro photo] (Free search) : §coll_1_351
1 photo trouvée (photo found)
Photo: coll_1_351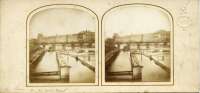 coll_1_351_12948.jpg - 48 K (1000 X 468)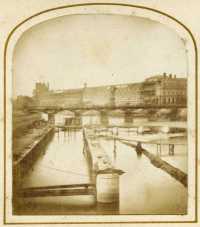 coll_1_351_65438.jpg - 96 K (1000 X 1136)
Voir séries (See series) : [ 3_type2 ]
Paris- Ecluse du quai de conti en construction (1853).
[ Indexation sur stereotheque.fr ]
Paris - Bank of Conti
Timbre sec : bandeau ovale surmonté d'un lion boxeur. Dans la largeur du bandeau : inscription «ESTO SEMPRE FIDELIS» et dans l'ovale, 3 lettres (initiales) en lettres gothiques.

Vue opaque.

Vue attribuée à Ferrier.
Script exécuté en 0,004 secondes
https://photostereo.org
© Francis Dupin 2000-2021. Toute reproduction interdite sans l'autorisation écrite de l'auteur.
All rights reserved.
Photographies stéréoscopiques du 19 ème siècle. 1850-1871 Photographie stéréoscopique, photos stéréo Stéréoscopie, photographie en relief, vintage, photographie en 3D, 3D photography Early stereoscopic photographs, stereoviews, stereoview of 19 th century, tissue views, tissues photographs, diableries.
(Version : 17/04/2021 07:15)
[
À propos
]
[

]
[

]