Date (Europe/Paris) : 26/09/2018 00:37
Moteur de recherche de photos stéréo (1850-1871). Stereoviews searching engine.
Recherche libre [limitée au champ numéro photo] (Free search) : §coll_1_355
1 photo trouvée (photo found)
Photo: coll_1_355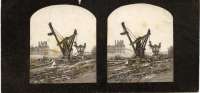 coll_1_355_64434.jpg - 59 K (1000 X 465)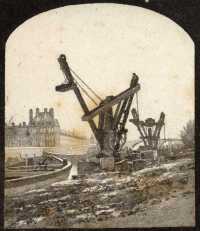 coll_1_355_88934.jpg - 153 K (1000 X 1157)
Voir séries (See series) : [ 104 ]
Paris - Les Tuileries et le pavillon de flore, vus du port de Solférino. Probablement lithographie à partir d'un daguerréotype ou d'un négatif sur verre. Attribué à Duboscq-Soleil ou Ferrier, ca 1852.
Paris - Tuileries Palace and Marsan Wing from the bank of Solférino.
Au dos au crayon : «N°82 / couvert Zoek
/ Couvert is zoek ». Pour l'attribution à Duboscq-Soleil, cf livre "Paris en 3D" Catalogue expo du musée Carnavalet. 2000. page 46. Cette vue se trouve aussi classée à la BNF à Duboscq (?). Microfilm ICR 2316 bobine 1068. L'ex. BNF porte au coin haut gauche à l'encre blanche «25.» et en tout petit dans l'angle bas droit : «RB».
Script exécuté en 1,039 secondes
http://photostereo.org
© Francis Dupin 2000-2018. Toute reproduction interdite sans l'autorisation écrite de l'auteur.
All rights reserved.
Photographies stéréoscopiques du 19 ème siècle. 1850-1871 Photographie stéréoscopique, photos stéréo Stéréoscopie, photographie en relief, vintage, photographie en 3D, 3D photography Early stereoscopic photographs, stereoviews, stereoview of 19 th century, tissue views, tissues photographs, diableries.
(Version : 26/09/2018 00:37)
[

]
[

]
[

]
[

]
[

]
[

]